Atout Process, in collaboration with ArianeGroup, and DLR are very pleased to announce the first results from a full scale CFC Smart Tank section. In a world first, the primary Smart Tank measurement, Electrical Capacitance Tomography (ECT) has been successfully scaled up to 1m diameter for spacecraft applications. Ground based testing anticipates a target value down to 0.1%, in real time, for all fill levels, with sloshing propellant. The project has also successfully demonstrated gauging with tanks that include internal equipment, and has shown measurement of liquid nitrogen.
Smart Tanks are being developed to provide reliable measurement of propellant mass and distribution under all circumstances including, in micro-G, in any orientation and during manoeuvres. Improved gauging in microgravity for example may allow optimisation of Satellite life span.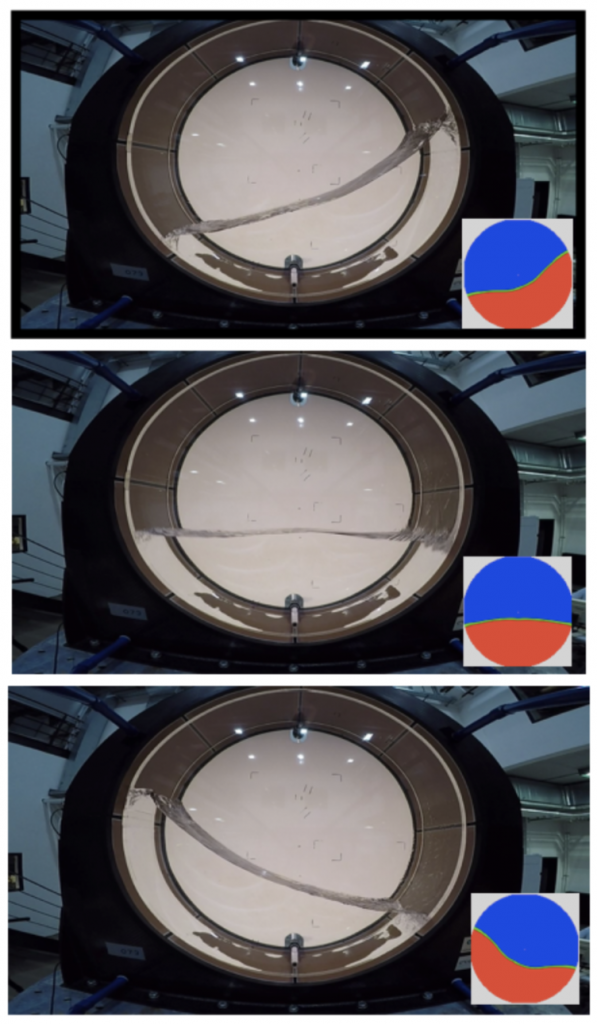 Richard Foster-Turner, COO at Atout said "This is an important milestone on the roadmap to full qualification of our Smart Tank technology for spacecraft and launchers. Following previous successful testing in small diameter spherical metal tanks, these new results show Smart Tanks can be scaled up, and implemented in carbon fibre composite tanks"
Dr. Kei Philipp Behruzi, Senior Expert Fluid Mechanics & Acoustics at ArianeGroup said "Improving the measurement of fill levels in spacecraft propellant tanks to improve space- craft efficiency is an ongoing challenge and the Smart Tank technology may even allow fill level measurements in microgravity which will represent a great opportunity."
About Atout Process
Established in 2010 and trading since 2011, Atout has a technology portfolio that includes a range of non-intrusive electromagnetic measurement techniques such as Electrical Capacitance Tomography (ECT), Magnetic Inductance Tomography (MIT), Electrical Velocity Tomography (EVT), and other novel techniques.
Atout develops solutions based on these technologies to solve some of the most difficult measurement problems in industry including food, energy, oil & gas, aerospace and defence. Atout's offering allows customers to see inside pipes and vessels through opaque barriers and to weigh moving product without direct contact.
About ArianeGroup
ArianeGroup develops and supplies innovative and competitive solutions for civil and mili- tary space launchers, with expertise in all aspects of state-of-the-art propulsion technologies. ArianeGroup is lead contractor for Europe's Ariane 5 and Ariane 6 launcher families, responsible for both design and the entire production chain, up to and including marketing by its Arianespace subsidiary, as well as for the missiles of the French oceanic deterrent force. ArianeGroup and its subsidiaries enjoy a global reputation as specialists in the field of equipment and propulsion for space applications, while their expertise also benefits other industrial sectors. The group is a joint venture equally owned by Airbus and Safran, and employs approximately 9,000 highly qualified staff in France and Germany. Its 2018 rev- enues amounted to 3.6 billion euros.
Acknowledgment
The work is funded by the German Federal Ministry of Economic Affairs and Energy (contract code: 50RK1833) and administered by the German Space Agency (DLR). Their support is greatly appreciated.
*Smart Tanks for Space is a mark of Atout Process Ltd
Smart Tanks for Space*